Venice Income Properties
Venice is a beachfront district on the Westside of Los Angeles. It is known for its canals, beaches and circus-like Ocean Front Walk, a two-and-a-half mile pedestrian-only promenade that features performers, fortune-tellers, artists, and vendors. Venice was home to some of Los Angeles' early beat poets and artists and has served as an important cultural center of the city.
History
Venice of America was founded by tobacco millionaire Abbot Kinney in 1905 as a beach resort town, 14 miles west of Los Angeles. He and his partner Francis Ryan had bought two miles of oceanfront property south of Santa Monica in 1891. They built a resort town on the north end of the property called Ocean Park, which was soon annexed to Santa Monica. After Ryan died, Kinney and his new partners continued building south of Navy Street in the unincorporated territory. After the partnership dissolved in 1904, Kinney built on the marshy land on the south end of the property, intending to create a seaside resort like its namesake in Italy.
When Venice of America opened on July 4, 1905, Kinney had dug several miles of canals to drain the marshes for his residential area, built a 1,200-foot long pleasure pier with an auditorium, ship restaurant, and dance hall, constructed a hot salt-water plunge, and built a block-long arcaded business street with Venetian architecture. Tourists, mostly arriving on the "Red Cars" of the Pacific Electric Railway from Los Angeles and Santa Monica, then rode Venice's miniature railroad and gondolas to tour the town. But the biggest attraction was Venice's mile-long gently sloping beach. Cottages and housekeeping tents were available for rent.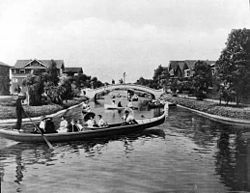 A gondolier on the Venice Canals, 1909.
Attractions on the Kinney Pier became more amusement-oriented by 1910, when a Venice Scenic Railway, Aquarium, Virginia Reel, Whip, Racing Derby and other rides and game booths were added. Since the business district was allotted only three one-block-long streets, and the City Hall was more than a mile away, other competing business districts developed. Unfortunately, this created a fractious political climate. Kinney, however, governed with an iron hand and kept things in check. When he died in November 1920, Venice became harder to govern. With the amusement pier burning six weeks later in December 1920, and Prohibition (which had begun the previous January), the town's tax revenue was severely affected.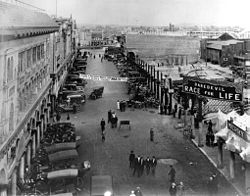 The Kinney family rebuilt their amusement pier quickly to compete with Ocean Park's Pickering Pier and the new Sunset Pier. When it opened it had two roller coasters, a new Racing Derby, a Noah's Ark, a Mill Chutes, and many other rides. By 1925 with the addition of a third coaster, a tall Dragon Slide, Fun House and Flying Circus aerial ride, it was the finest amusement pier on the West Coast. Several hundred thousand tourists visited on weekends. In 1923 Charles Lick built the Lick Pier at Navy Street in Venice, adjacent to the Ocean Park Pier at Pier Avenue in Ocean Park. Another pier was planned for Venice in 1925 at Leona Street (now Washington Street).
For the amusement of the public, Kinney hired aviators to do aerial stunts over the beach. One of them, movie aviator and Venice airport owner B. H. DeLay, implemented the first lighted airport in the United States on DeLay Field (previously known as Ince Field). He also initiated the first aerial police in the nation, after a marine rescue attempt was thwarted. DeLay also performed many of the world's first aerial stunts for motion pictures in Venice.
By 1925, Venice's politics became unmanageable. Its roads, water and sewage systems badly needed repair and expansion to keep up with its growing population. When it was proposed that Venice be annexed to Los Angeles, the board of trustees voted to hold an election. Those for annexation and those against were nearly evenly matched, but many Los Angeles residents, who moved to Venice to vote, turned the tide. Venice became part of Los Angeles in November 1925.
In 1929, oil was discovered south of Washington Street on the Venice Peninsula. Within two years, 450 oil wells covered the area and drilling waste clogged the remaining waterways. It was a short-lived boom that provided needed income to the community, which suffered during the Great Depression. The wells produced oil into the 1970s.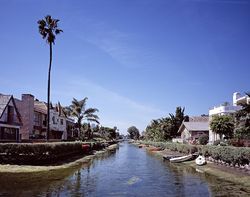 The canals of Los Angeles' Venice neighborhood (shown here) were modeled, on a smaller scale, of those in Venice, Italy
Neighborhoods
Venice is today one of the most vibrant and eclectic areas in Los Angeles and it continues a tradition of liberal social change involving prominent Westsiders. The Venice Farmers' Market, founded in 1987, operates every Friday morning from 7-11 a.m. on Venice Blvd at Venice Way.
Many of Venice's houses have their principal entries from pedestrian-only streets, and have house numbers on these footpaths. (Automobile access is by alleys in the rear).
Venice Beach
Venice Beach includes the beach, the promenade that runs parallel to the beach ("Ocean Front Walk" or just "the boardwalk"), Muscle Beach, the handball courts, the paddle tennis courts, Skate Dancing plaza, the numerous beach volleyball courts, the bike trail and the businesses on Ocean Front Walk. The basketball courts in Venice are renowned across the country for their high level of streetball; numerous NBA players developed their games or are recruited on these courts.
The Venice Breakwater is an acclaimed local surf spot in Venice. It is located north of the Venice Pier and Lifeguard Headquarters, and south of the Santa Monica Pier. This spot is sheltered on the north by an artificial barrier, the breakwater, consisting of an extending sand bar, piping, and large rocks at its end.
East Venice
East Venice is separated from Oakwood and Milwood (the area south of Oakwood) by Lincoln Boulevard, extending east to the border with the Mar Vista neighborhood, near Venice High School. Aside from the commercial strip on Lincoln, the area almost entirely consists of small homes and apartments as well as Penmar Park and Penmar Golf Course.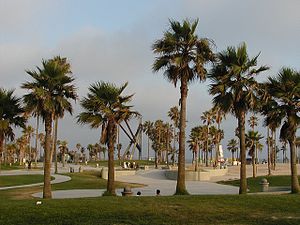 Palm trees along the Venice Boardwalk