Sherman Oaks Properties
Sherman Oaks is a district in the San Fernando Valley and is roughly bounded by Studio City to the east, Van Nuys to the north, Encino to the west, Bel Air and Beverly Hills Post Office to the south. More precisely, the southern boundary is Mulholland Drive, the western boundary is Firmament as it crosses Ventura Blvd. The current northern boundary is Oxnard Street and the eastern boundary is Coldwater Canyon Avenue from Burbank south to Magnolia Boulevard where it heads west to reach Fulton Avenue at Ventura Boulevard.
Sherman Oaks was one of the first Valley communities to experience intensive real estate development. Anticipating the development of the Los Angeles Aqueduct in 1913, Los Angeles Suburban Homes Co. purchased 47,500 acres of the southeast Valley in 1910. In 1911, a subdivision map called Tract 1000 was filed with Los Angeles County. From that parcel, one of the partners in the company, General Moses Hazeltine Sherman, bought 1,000 acres for himself. In 1927, Sherman subdivided the property and sold the land for $780 an acre. Since that time the city has become a mix of apartments, condominiums and single family homes all in many different niche neighborhoods.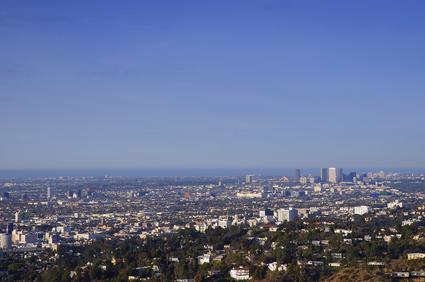 Sherman Oaks offers several high-end fashion boutiques, and features many upscale houses and restaurants. One of the city's main claims to fame is the presence of the Sherman Oaks Galleria, a shopping mall identified as a meet-up place for valley girls, a 1980s cultural label which became widely known because of the 1983 movie Valley Girl and a song of the same name by Frank Zappa. In addition, a portion of the 1982 movie Fast Times at Ridgemont High was filmed there. After being damaged in the 1994 Northridge earthquake, the Galleria eventually was torn down and replaced by an open-air retail and office complex that bears little resemblance to the original mall. Other local shopping options include the Westfield Fashion Square (formerly known as Sherman Oaks Fashion Square), and an assortment of boutiques and restaurants located along Ventura Boulevard.
Every third Sunday in October, the Chamber of Commerce produces a popular Street Fair, closing down a half-mile stretch of busy Ventura Boulevard for booths, food, and entertainment (including rides for the kids). Upwards of 100,000 visitors stop by each year.
Parks and recreation
The Van Nuys Sherman Oaks Park is in Sherman Oaks. The park has an auditorium, two lighted baseball diamonds, six unlighted baseball diamonds, lighted indoor basketball courts, lighted outdoor basketball courts, a children's play area, a 60 person community room, a lighted American football field, an indoor gymnasium without weights, picnic tables, a lighted soccer (football) field, and lighted tennis courts. Located in the same place as the park, the Van Nuys Sherman Oaks Pool is a seasonal outdoor heated swimming pool. The Van Nuys Sherman Oaks Senior Citizen Center (a.k.a. Bernardi Center), also on the park grounds, has an auditorium and multi-purpose room; its banquet capacity is 200 and its assembly capacity is 300. The senior center also has two community/meeting rooms; one can hold 50 people and one can hold 30 people. The senior center has two kitchens, a play area, a shuffle board place, a stage, and two storage rooms. The Van Nuys Sherman Oaks Tennis Courts facility in the Van Nuys Sherman Oaks Park has eight courts. In addition the city operates the Sherman Oaks Castle Park, with arcade, batting cages, and miniature golf facilities, in Sherman Oaks.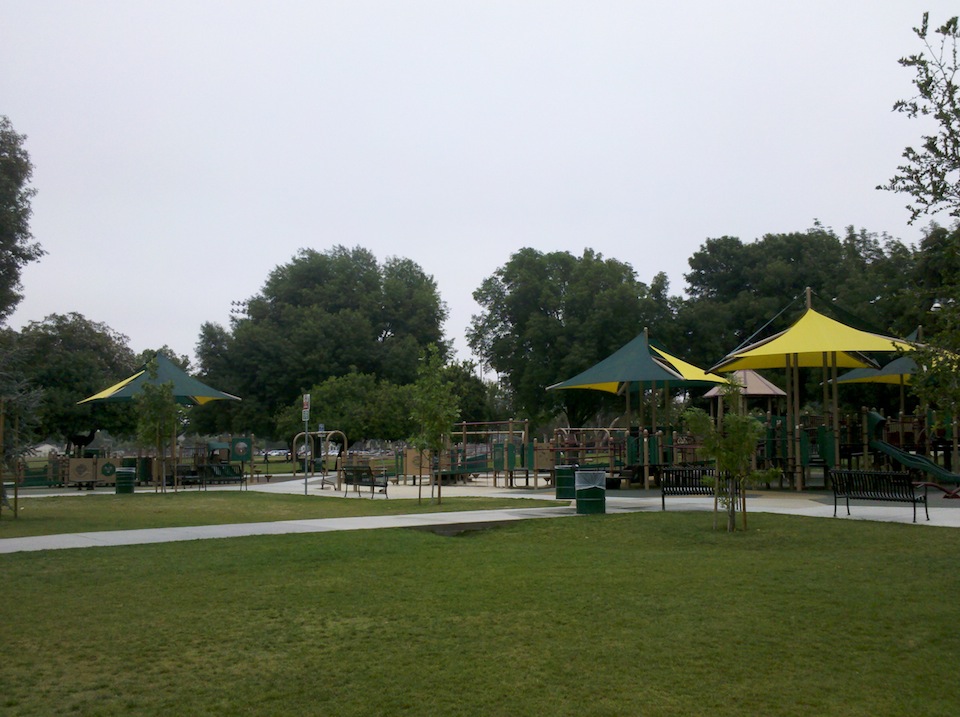 Education
Primary and secondary schools
Public schools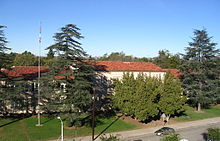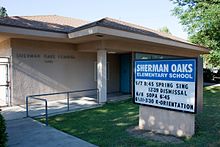 Sherman Oaks Elementary School
Sherman Oaks' primary and secondary public schools are part of the Los Angeles Unified School District.
Public elementary schools in the area are:
Public secondary schools in the area are:
The Sherman Oaks Center for Enriched Studies is actually located in Reseda (between 5–10 miles north-west of Sherman Oaks).
Private schools
Private and parochial schools in the area are:
Church of the Chimes
St. Francis DeSales
Sherman Oaks Lutheran
Sherman Oaks Presbyterian
The Nurtury
Armenian Evangelical Schools of California
Cambridge School
Preview all properties for lease below: