Malibu Income Properties
Malibu is an affluent beachfront city in northwestern Los Angeles County. Malibu consists of a 21-mile strip of prime Pacific coastline. Nicknamed "the 'Bu" by surfers and locals, the community is famous for its warm, sandy beaches, and for being the home of many Hollywood movie stars and others associated with the entertainment industry. Signs around the city proclaim "27 miles of scenic beauty", referring to Malibu's original length of 27 miles before the city was incorporated in 1991.
Most Malibu residents live within a few hundred yards of Pacific Coast Highway, which traverses the city, with some residents living up to a mile away from the beach up narrow canyons, and many more residents of the unincorporated canyon areas identifying Malibu as their hometown. The city is also bounded (more or less) by Topanga Canyon to the East, the Santa Monica Mountains consisting of Agoura Hills, Calabasas, and Woodland Hills to the North, the Pacific Ocean to the South, and Ventura County to the West.
Malibu's beaches include Surfrider Beach, Zuma Beach, Malibu State Beach, Topanga State Beach, Point Dume State Beach and Dan Blocker Beach; its local parks include Malibu Bluffs Park (formerly Malibu Bluffs State Park), Trancas Canyon Park, Las Flores Creek Park, and Legacy Park, with neighboring parks Malibu Creek State Park, Leo Carrillo State Beach and Park, Point Mugu State Park, and the Santa Monica Mountains National Recreation Area, and neighboring state beach Robert H. Meyer Memorial State Beach, that was once part of Old Malibu (before Malibu became a city), and better known as pristine beaches, El Pescador, La Piedra and El Matador.

History
Malibu was originally settled by the Chumash, Native Americans whose territory extended loosely from the San Joaquin Valley to San Luis Obispo to Malibu, as well as several islands off the southern coast of California. They named it "Humaliwo" or "the surf sounds loudly." The city's name derives from this, as the "Hu" syllable is not stressed.
Spanish explorer Juan Cabrillo is believed to have moored at Malibu Lagoon, at the mouth of Malibu Creek, to obtain fresh water in 1542. The Spanish presence returned with the California mission system, and the area was part of Rancho Topanga Malibu Sequit a 13,000-acre land grant in 1802. That ranch passed intact to Frederick Hastings Rindge in 1891. He and his widow, Rhoda May Rindge, guarded their privacy zealously by hiring guards to evict all trespassers and fighting a lengthy court battle to prevent the building of a Southern Pacific railroad line. Few roads even entered the area before 1929, when the state won another court case and built what is now known as the Pacific Coast Highway. By then May Rindge was forced to subdivide her property and begin selling and leasing lots. The Rindge house, known as the Adamson House (a National Register of Historic Places site and California Historical Landmark), is now part of Malibu Creek State Park and is situated between Malibu Lagoon State Beach and Surfrider Beach, beside the Malibu Pier that was originally built for the family yacht.
In 1926, in an effort to avoid selling land to stave off insolvency, Rhoda May Rindge created a small ceramic tile factory. At its height, Malibu Potteries employed over 100 workers, and produced decorative tiles which furnish many Los Angeles-area public buildings and Beverly Hills residences. The factory, located one-half mile east of the pier, was ravaged by a fire in 1931. Although the factory partially reopened in 1932, it could not recover from the effects of the Great Depression and a steep downturn in Southern California construction projects. A distinct hybrid of Moorish and Arts and crafts designs, Malibu tile is considered highly collectible. Fine examples of the tiles may be seen at the Adamson House and Serra Retreat, a fifty-room mansion that was started in the 1920s as the main Rindge home on a hill overlooking the lagoon. The unfinished building was sold to the Franciscan Order in 1942 and is operated as a retreat facility, Serra Retreat. It burned in the 1970 fire and was rebuilt using many of the original tiles.
Malibu Colony was one of the first areas inhabited after Malibu was opened to the public in 1929 and it is one of Malibu's most famous districts. It is located south of Malibu Road and the Pacific Coast Highway, west of Malibu Lagoon State Beach, and east of Malibu Bluffs Park (formerly a state park). Initially May Rindge kept control of Malibu Beach, allowing a few wealthy Hollywood stars to build vacation homes. Nearly a decade later, money woes forced Rindge to sell the land, and the Colony was born. Long known as a popular private enclave for wealthy celebrities, the Malibu Colony today is a gated community, with multi-million dollar homes on small lots. The Colony commands breathtaking views of the Pacific Ocean, affording a spectacular coastline view stretching from Santa Monica to Rancho Palos Verdes to the south (known locally as the Queen's Necklace) and the bluffs of Point Dume to the north.
Geography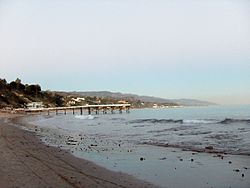 The Paradise Cove pier in Malibu
Carbon Beach, Paradise Cove, Escondido Beach, Surfrider Beach, Broad Beach, Pirate's Cove, Westward Beach, Zuma Beach, and Trancas are places along the coast in Malibu. Point Dume forms the northern end of the Santa Monica Bay, and Point Dume Headlands Park affords a vista of stretching to the Palos Verdes Peninsula and Santa Catalina Island. Directly below the park, on the western side of the point, is Pirates Cove, named for rum-runners during Prohibition who liked the secluded beach for offloading their cargo. Because of its relative seclusion, Pirate's Cove was previously used as a nude beach, but since nudity is now illegal on all beaches in Los Angeles County, nude sunbathers are subject to fines and/or arrest. On the eastern side of the point is "Little Dume", a surf spot which is accessible only by an unmarked trail below Wildlife Drive which has a locked gate. Surfers often paddle out from Paradise Cove to the area when the waves are breaking.