Hollywood Hills East Properties
Hollywood Hills East is a neighborhood in the city of Los Angeles in the Central L.A. region of Los Angeles County. It contains Beachwood Canyon, Lake Hollywood and The Cahuenga Hills. The area is located East of the 101 Freeway, North to Barham Blvd., South to Sunset Blvd and West of the Bronson Canyon Park. Home of the Hollywood sign, this area offers pristine views of the canyons, city lights & more.
Lake Hollywood, also known as the Hollywood Reservoir, is a reservoir located near the top of the Santa Monica Mountains. It is maintained by the Los Angeles Department of Water and Power (DWP). The reservoir and surrounding neighborhood are located just below the Hollywood Sign.
The reservoir is held by the Mulholland Dam, built in 1924. The dam was designed by William Mulholland as part of the Los Angeles Aqueduct storage system. The lake currently holds 2.5 billion US gallons of water and once provided Los Angeles with most of its water. It can be up to 183 feet deep in certain points. Because of federal water quality legislation, the water department had plans to place tarps over the top of the lake to protect the drinking water from run-off and contamination. But, instead, due to neighborhood concerns and protests, two large underground water storage tanks that are 50 feet deep and 200 feet across were built on the north side of the reservoir. Also, after the 1928 dam burst of another Mulholland-designed dam (and a loss of life of some 600+ people), the City of Los Angeles dumped many tons of rock and fill on the outside edges of the dam as protection against any dam bursts.
The surrounding area is open to recreation, for walking, hiking, and jogging, although swimming and boating are prohibited.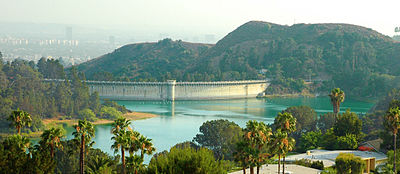 Lake Hollywood Reservoir behind Mulholland Dam
Beachwood Canyon is a community in the northern portion of the Hollywood Hills. The upper portion of the canyon is the Hollywoodland that was originally advertised in the 1920s by the Hollywood Sign. The canyon features its own market, coffee shop and stables.
Home to more than 22,000 residents, it was first developed in the 1920s by a syndicate composed of Gen. M. H. Sherman, the founder of West Hollywood; Los Angeles Times publisher Harry Chandler; and real estate mogul Sidney Woodruff. Its architecture and landscaping drew inspiration from the southern regions of France, Italy and Spain.
Film directors have favored the canyon over the years, so movies such as the original Invasion of the Body Snatchers (1956) were filmed there, with terrorized masses running down Belden Drive.