The Pico - Robertson Neighborhood
Geography

Occupying a little over one square mile, Pico-Robertson is sandwiched between Beverlywood, Beverly Hills, Carthay Square, Cheviot Hills and Mid City. The heart of L.A.'s Jewish community, this low-key neighborhood is home to more than 30 kosher restaurants, scores of synagogues and the Museum of Tolerance.

Pico-Robertson's street borders are roughly Gregory Way and Whitworth Drive on the north, La Cienega Blvd on the east, Airdrome Street and West 18th Streets on the south, Hillcrest Country Club, Beverly Green Drive and South Roxbury Drive on the west.

The north west part of Pic-Robertson is also referred to as Beverly Hills Adjacent. Its close proximity to Beverly Hills allows for an incredible amount of world class shopping, dining and the Century City business district and theatres.

History & Culture

The Pico-Robertson neighborhood has a long history as a predominantly Jewish section of Los Angeles. Many local residents are Orthodox Jews who form tightly-knit communities centered around their synagogues and shuls, and the presence of these communities helps explain the high density of kosher restaurants and markets in the area. In the 1980s, however, the neighborhood began to change as Persian Jews fleeing oppression in Iran flocked into the neighborhood. The Museum of Tolerance stands as a key cultural landmark in the Pico-Robertson neighborhood. This high-tech, extremely interactive museum provides a remarkable way for visitors to learn about the Holocaust. Set aside hours for your visit, and prepare to be deeply moved. The museum also hosts regular events including screenings of films and special speaker series.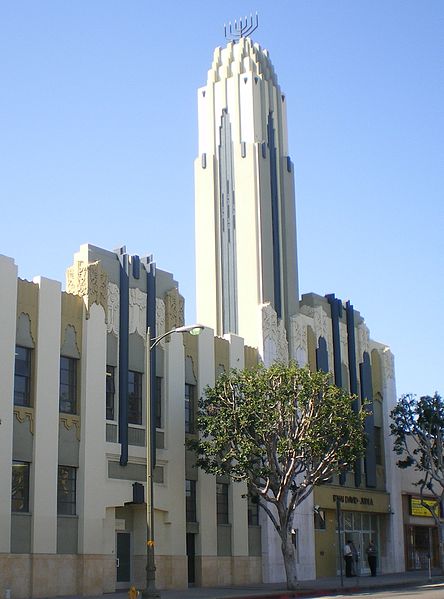 Bnai David Judea building, a prominent sight in Pico-Robertson, once the home of Fox Stadium theatre.
Parks

Although the Pico-Robertson neighborhood doesn't include any parks, quite a few are available to residents willing to step outside the boundaries of the area. The Cheviot Hills Recreation Center one neighborhood to the west provides a wide range of recreational facilities, most of them free to use. Come here for tennis, basketball, baseball, soccer and a pool. Many kids' sports leagues compete here in the park, and the recreation center offers many classes for adults as well. The park even includes a dog park where your furry friends can play off leash. Just beyond the Cheviot Hills park lies the Rancho Park municipal golf course, available to all in the city of Los Angeles for a modest greens fee. Roxbury Memorial Park in Beverly Hills, just off the northwest corner of Pico-Robertson, has playgrounds for the kids, as well as basketball courts, tennis courts, lawn bowling greens and barbecue pits. Once a year, the park hosts Woofstock, a family-friendly animal adoption event that features a pet parade and free lawn bowling lessons.

Schools

There are no public schools within Pico-Robertson. The Six private schools in the neighborhood are:

Bais Chaya Mushka Chabad, K-12, 9051 West Pico Boulevard
Rabbi Jacob Pressman Academy, elementary, 1055 South La Cienega Boulevard
St. Mary Magdalen Elementary School, 1223 South Corning Street
YULA Boys High School, 9760 West Pico Boulevard
Yeshiva of Los Angeles Girls High School, 1619 South Robertson Boulevard
Preview all properties for sale below: Preview all properties for lease here: