The South Park District, Downtown Los Angeles
South Park is a district in central Los Angeles, California, originally located around South Park near the intersection of 51st Street and Avalon Boulevard in South Central Los Angeles. However, due to redevelopment and gentrification since 2003, the name has been co-opted and now refers to an area in the southern portion of Downtown Los Angeles. This new "South Park" is the site of the Los Angeles Convention Center, the Staples Center, the "L.A. Live" entertainment complex and the Fashion Institute of Design & Merchandising or FIDM. In 2007, after a 57 year absence, Ralphs Supermarket returned to the neighborhood, opening an upscale Ralphs Fresh Fare store.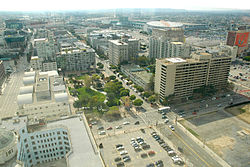 Geography and transportation
South Park is bounded by the Harbor Freeway on the west, the Santa Monica Freeway on the south, Main Street on the east, and Eighth Street on the north. Bordering the district are Pico-Union on the west, West Adams on the southwest, South Los Angeles district on the southeast, the Warehouse District on the southeast, and the Financial District on the northeast. Major thoroughfares include Venice, Pico and Olympic Boulevards, Grand Avenue, and Figueroa Street. The Blue Line light rail line stops in the district at the Pico/Chick Hearn station.
History
For most of Los Angeles' history, the area now known as South Park was dominated by industrial concerns, taxi dance halls, automobile dealerships, and residential hotels (most notably the Morrison Hotel, immortalized on the cover of an album by The Doors). Recently, the area has begun to rapidly transform with infill development. Starting in 2000, luxury loft apartments and condominiums with ground floor retail began construction. The district's proximity to the University of Southern California, as well as the Blue Line light rail line, have made it an attractive area for young professionals. As with many neighborhood transformations, this change in demographics has a few concerned about displacement and gentrification issues.
In October 2007, The Elleven and Luma Residences developed by The South Group, received the coveted Leadership in Energy and Environmental Design (LEED) Gold designation for their incorporation of sustainable materials: "green streets" to manage stormwater, energy-efficient construction techniques and amenities. Luma and Elleven are the first condos in California to receive the Gold designation.
First United Methodist Church (hoping to build a new development at Olympic and Flower) was one of the first to begin redeveloping the neighborhood, founding organizations to build affordable housing for seniors and families. The church plans a new complex that may include more housing, office space, worship and community gathering spaces. Since the church relocated in 1982, the neighborhood has undergone an almost total transformation.
The Current loft buildings located in the South Park District are the; Concerto, Elleven, Evo, Flower Street Lofts, Grand Lofts, Luma, Market Lofts, Sky Lofts, The Met Lofts, The Metropolitan, The Ritz Carlton at L.A. Live & The Skyline.
Preview all properties for sale below: Preview all properties for lease here: Preview all income properties for sale here: