The Arts District, Downtown Los Angeles
The Downtown Los Angeles Arts District, previously known as the Warehouse District, occupies the eastern side of Downtown Los Angeles. Its borders are roughly Alameda Street on the west, the 101 freeway on the north, the LA River on the east, and 7th Street on the south. The area is sometimes referred to as the "Artist" or "Artists District" on official City of Los Angeles signs. The Arts District is filled with older industrial and former railroad buildings. In 1981, the City of Los Angeles passed its "Artist in Residence" or "AIR" ordinance, which allowed residential use of formerly industrial buildings (artists had long used such spaces as living quarters illegally, and the AIR law sought to bring this practice into legality and regulation).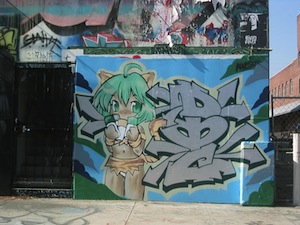 In the 1970s, these buildings started to became popular with the L.A. Art Community, and artists began buying and renting the buildings for use as art lofts. By the turn of the 21st Century, the popularity of the neighborhood started attracting more affluent residents looking for the "artist lifestyle." However, many of the new residential developments have been undertaken by real estate developers, as opposed to artists themselves.
Recent gentrification has swelled the population, bringing new residents, many of whom are young professionals, to the area. They reside alongside the veteran resident artists and still-functioning industrial and manufacturing businesses.
Loft-style apartments and condos in restored industrial buildings now dot the landscape, but the Arts District is still home to a major rail yard, cold storage, warehouses, food processing, furniture and fashion design/manufacturing, personal storage, government facilities and film locations. It is also home to thousands of resident artists in live/work spaces that support creative entrepreneurial businesses and non-profits. In addition, the district is home to the Southern California Institute of Architecture (SCI-Arc), a prominent school of architecture, and the Los Angeles offices of the Daily Journal, California's legal daily newspaper. Well-known restaurants, such as Wurstkuche, Metropol, R23, Church & State, Urth Caffe, Villains Tavern and Tony's Saloon are located in the Arts District, shoe and apparel line Royal Elastics along with a variety of eclectic shops and galleries.
Coming in 2012, the Arts District will soon be the home of the new La Kretz CleanTech Innovation Campus.
The Current loft buildings located in the Arts District are the; Barker Block Lofts, Barn Lofts, Biscuit Company Lofts, Molino Street Lofts, Mura, Savoy, Toy Factory Lofts & the Toy Warehouse Lofts.
Preview all properties for sale below: Preview all properties for lease here: Preview all income properties for sale here: